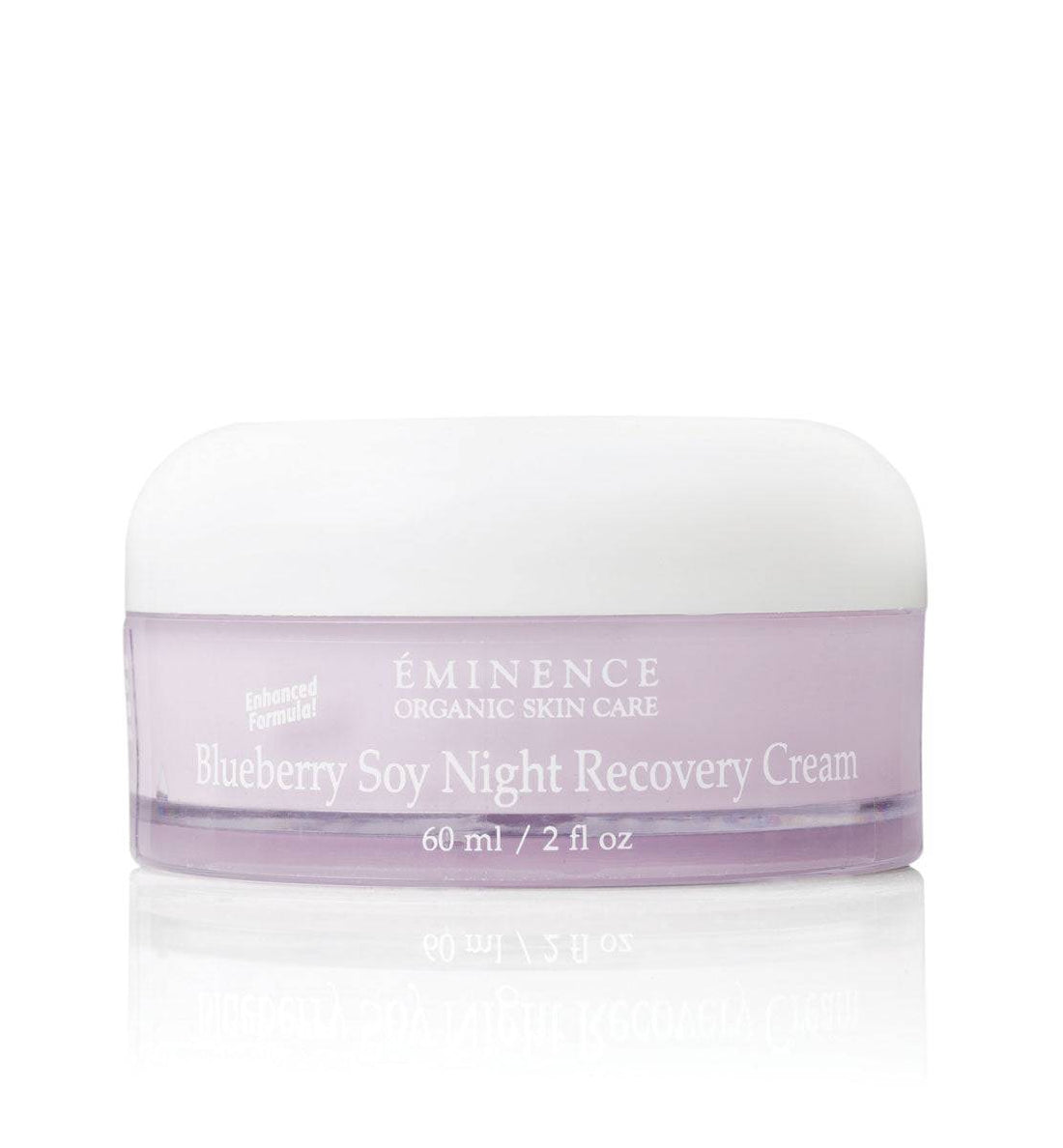 Eminence Organic Blueberry Soy Night Recovery Cream
Stimulate your skin while you sleep. This cream repairs the appearance of aging skin and returns firmness during a very important time – the most active renewal happens while we rest. By harnessing the active nutrients of blueberry and soy milk, you can wake up looking great.
Retail Size: 2 oz / 60 ml
Winner of Best Face Product, LNE's Best, Les Nouvelles Esthétiques & Spa, 2008
Winner of Professional Anti-Aging Product Award, B&H Beauty Pro Awards, Hong Kong, 2007
Apply a layer of moisturizer over the entire face and neck area. Leave on. For a lighter application, emulsify a small amount of moisturizer in your hand with a few drops of water. For extra hydration, apply a thicker layer on dry areas.
Key Ingredients
Blueberry: deep cleans pores, tightens and tones skin
Non-GMO Soy: reduces the appearance of wrinkles; rich in isoflavones and vitamins
Shea Butter: moisturizes to repair the look of skin
Raspberry Juice: high in vitamins
Grape Seed Oil: delivers hydration
Calendula Oil: tones, tightens and supports the skin's appearance through moisturization
BioComplex: a booster of antioxidants, Coenzyme Q10, and Alpha Lipoic Acid to reduce the appearance of wrinkles and improve the appearance of skin
The visible signs of aging are reduced
Revitalizes the texture of the skin's appearance
Stimulates repair of the skin
Eminence is constantly innovating our product formulations to deliver the best results.
Item ships from our Toronto location within 1-2 business days. Out of stock; see pre-order info on delivery times.