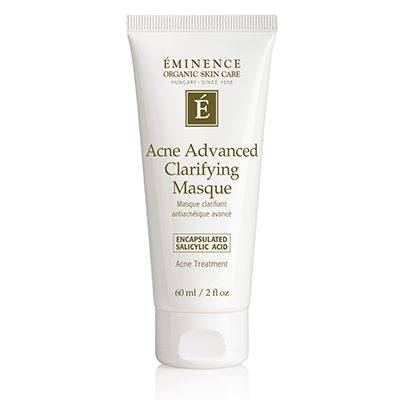 Eminence Organic Acne Advanced Clarifying Masque
Eminence Organic Acne Advanced Clarifying Masque:

"Masque or Spot treatment? YOU decide!
This potent anti-acne masque employs ingredients to treat existing acne and prevent breakouts. There are 3 different types of detoxifying clay to help pull impurities out of the skin as well as helping to reduce shiny skin. Calming to reveal less irritated skin.


Retail Size: 2 oz / 60 ml
Terese Hatter ~ Beauty Tree

Head medical esthetician
Above is my personal info on this
organic masque.


How to use:
Cleanse skin thoroughly before applying this product. Apply a small amount of product evenly over the entire face and neck or apply as a spot treatment as desired. Allow to dry for five to 10 minutes. Rinse thoroughly with lukewarm water and use a face cloth if desired. Use weekly as a mask, or as a spot treatment up to three times per day.
If breakouts are severe, use the mask as a moisturizer for the night. Just be sure to protect your pillow, and use a pillowcase that you aren't too attached to. 
Key Ingredients:
Encapsulated Salicylic Acid: beta-hydroxy-acid; delivers time-release protection against acne breakouts by encouraging exfoliation and unclogging pores
Clay (Montmorillonite Clay, Kaolin Clay, Red Kaolinite): three clays combine to absorb impurities, gently exfoliate and absorb excess oil
Sulfur: natural exfoliating benefits to reduce the appearance of acne
Basil Oil: natural cleansing properties to help purify and soothe skin's appearance
Item ships from our Toronto location within 1-2 business days. Out of stock; see pre-order info on delivery times.